Studio Showcase 2023: DETAILS!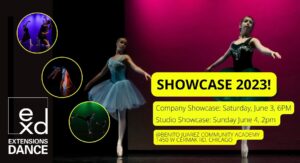 Hello Extensions Dance Families!   SAVE THIS LINKE FOR QUICK ACCESS TO ALL THINGS YOU NEED TO KNOW FOR OUR STUDIO SHOWCASE ON JUNE 4TH AT 2PM!
1- Tickets for our showcase will go on sale on Monday May 8th at 4:30PM CST.   It is assigned seating and there are 3 different levels of ticket prices: $20, $25 & $30.   Children under the age of 5 can sit on laps.
 BUY TICKETS HERE: https://30489.danceticketing.com/r/events/
2- The studio showcase will be at 2pm on Sunday June 4 at Benito Juarez Community Academy here in Chicago, 1450 W. Cermak Rd. Auditorium doors will open for seating 15 minutes prior to the top of the show.   Technical rehearsals will begin at 9AM on that Sunday morning.  We will have a more detailed schedule for those rehearsals in the upcoming weeks, but please plan to have your dancer there early on Sunday morning for their on stage technical rehearsals.  We will also be sending out running order of the show in advance.
3- All costume pieces should be in your possession at this time, including all accessories.  Everything has been sent home.  If you had an alteration by Julio and have not yet picked it up, your costume is at the studio.
4-Please see the attached Costume LOOKBOOK for all of your costume, hair and accessory details and please do check your dancer's costume bag to ensure everything is in there.
If you have any questions, please email me directly at [email protected]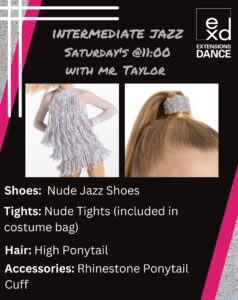 Studio Showcase ACT II dress rehearsal info:
PRE-ORDER YOUR VIDEO AND FLOWERS HERE!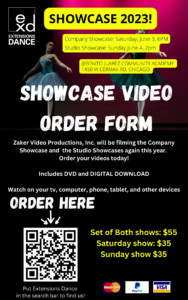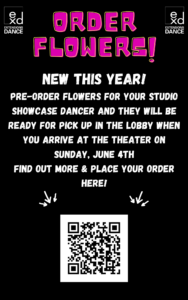 Studio Showcase Tech schedule: